National League Champions
Superb Seventh for North Ayrshire
Report from Table Tennis Scotland website and written by Charlie Ellis
North Ayrshire A are again Scottish National League champions; their seventh title in nine seasons. They clinched the title in the very final match of the season as the SNL bubbled to an exciting conclusion at Bell's Sports Centre in Perth. 
In marked contrast to their cruise to the title last year, they were really made to battle this time with two tough fixtures on the final day. North Ayrshire A also had to overcome the absence of Scottish number 2 Colin Dalgleish (due to a wedding). The destination of the Division 1 titlae wasn't decided until the very final match of the final fixture (Vs Murrayfield A)- a really fitting end to an excellent season which has again seen further expansion of the league and enthusiastic participation from all those involved.
Their opening match of the day was a tough one against South Ayrshire A. In the opener Chris Main and Dylan Curry slugged it out over 5 sets; a big long-range backhand at 8-7 in the final set helping Main close it out 11-9. Curry was himself impressive in beating Zak Wilson 3-0, while Rebecca Plaistow came back well from 1-2 down to beat Ethan Chapman, who had come in to fill the big shoes of Colin Dalgleish. Meanwhile Murrayfield A had few alarms as they defeated North Merchiston 6-o with just three sets dropped. The match between Johannes Laute and Glyn Eggar produced the best table tennis of the fixture with both scoring with big sweeping backhands. 
This left everything depending on the final match, with North Ayrshire A requiring only to draw the match in order to win the league; only a win would suffice for Murrayfield A.
Zak Wilson started off with a 4 sets victory over a frustrated and slightly erratic Johannes Laute (Wilson's impressive retrieving play helping him win some key points) before John Hannah produced a fine performance to defeat Chris Main 3-1 – winning three sets in a row at deuce. This emphasises the closeness of the match. Main pointed to the game between Chapman and Czarnomska as critical to the outcome. After coming back well, to take the 4th, Czarnomska led 6-3 in the decider as she forced Chapman back into playing long-range backhands. Chapman did well to maintain his positivity, eventually getting in with enough big forehands as Czarnomska became a little passive. Chapman eventually taking the decider 11-7 to give his side a 2-1 lead; just one victory from the league title. John Hannah again showed his battling qualities in an intense and high calibre game against Zak Wilson. The match was a credit to both players with Hannah dodging a match point to come through 12-10 in the decider. Johannes Laute then put Murrayfield ahead, beating Ethan Chapman 3-1 and hence taking the overall contest to a final deciding match. With all other matches now having finished all the attention in the hall was focused on table 1- on Chris Main vs Alicja Czarnomska. Main started brightly and generally dominated the match. Czarnomska was generally able to absorb Main's topspins but couldn't find any consistency with her own punched attacks. Main's 3-0 win took his team over the line for the title; both teams on the same points but North Ayrshire A ahead on 'goal difference'.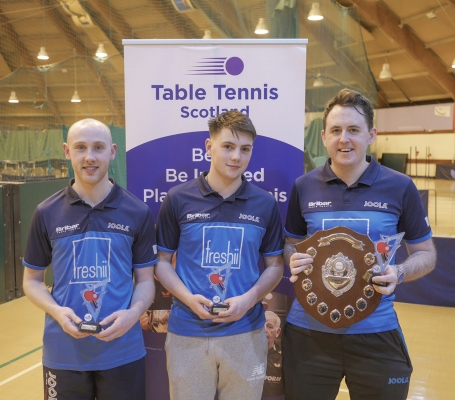 Afterwards, Chris Main and John Hannah shared their thoughts. 
Chris Main.
'Before the game I just felt it was a flip of a coin-it was that close'. 'I felt that it was going to be tough to win 3 of the matches but on the other hand they had to win 4 out of six-not easy'. Against John I lost three deuces and had set points in two-that was a tough loss to take'. In his match with Alicja 'I though Ethan was going to lose, then that he was going to win, then lose…then he won it at the end..that was key for us…for me that was the most important win'. 'to be honest, I couldn't see John beating me and Zak back to back…but he did well winning so many deuces…he clearly reads his opponent well, working out what they want to do'. 'We were really pleased to be able to pull it off without Colin-Ethan really deserved his chance as he's played for the club for 5 seasons; he knew the script, he knew there would be pressure but he did really well with 2 good wins today'. 'a draw is a fair result and shows how important every single match is and how important it is to win 6-0 if you can'. 'it's a bit tough for Murrayfield to win every other match but not win the league'. 
John Hannah.
Hannah felt his side had 'done well' to push North Ayrshire so close. Their morning match (vs North Merchiston) was, Hannah felt, a 'good warm up', especially as Stewart Armitage (like Chris and Zak) is left-handed. The match was also far from easy so 'was a good mental warm up'. Hannah continued: 'before the final match we assessed that the last two games (Alicia and Mainy and Johannes vs Ethan) were pretty much foregone conclusions which left four approximately fifty-fifty games and that we needed to win three of those as a draw not good enough'. With Colin away it did 'give us a chance'. Though they came up slightly short Hannah was proud that Murrayfield A had finished 'undefeated for a whole SNL season for the second time in three years'. Looking back, Hannah felt that Dylan Curry's performance against them (he beat both Laute and Hannah-Hannah's sole loss of the season) was quite significant in terms of Murrayfield matches ratio.  
Elsewhere in the top division South Ayrshire A held on to third spot via a draw in their final match against Dundee A as Dylan Curry ended a strong season with two comfortable wins. Dundee A themselves produced a good performance to defeat Dumfries A 5-1 for whom Keir Morton had a day to forget. This took Dundee out of the relegation zone, ending behind Dumfries in fifth place. Starting the day on 0 points, Murrayfield B clambered out of the relegation slots with wins over over Drumchapel A and North Merchiston A. Gordon Muir's comeback win from 7-10 down in the fifth set against Glyn Eggar proved crucial as his team finished very narrowly ahead of their Edinburgh rivals. 
The Scottish Vets A Team return to the top flight; a convincing victory over North Ayrshire B rounding off their successful season in Division 2 (7 wins out of 7). A fine match between Jamie Johnson and Gerry Campbell was one of the games of the day- Campbell taking it in 4 highly watchable sets. Murrayfield C edged above North Ayrshire B to finish as runners-up, but they won't be promoted (no club can have more than two teams in a division). North Ayrshire B and Murrayfield C produced a superb contest, ending in a draw. It featured two excellent comeback wins; for Jamie Johnson over Junji Hua and for Borui Chen vs Ryan Henry. North Ayrshire B finished on 10 points and will join their A team in Division 1.  Edinburgh International drop into Division after 2 losses on the final day. 
Glasgow South A and Stirling A are the promoted sides in Division 3.  Glasgow South A taking the title by dint of a 4-2 win over Stirling A, with Cameron Hussain picking up 2 wins; David Simpson's 2 wins for Stirling A were in vain. Undoubtedly one of the games of the day saw North Ayrshire C's Nathan Hogg beat South Ayrshire's Kieran Walker 3-2 in an epic match featuring countless lengthy lob vs attack rallies which had spectators crowding round. Walker's puce face told the story! Both players fully deserved the lengthy round of applause they received at the end of the match.  
Following two clear victories on the final day, Edinburgh University A won Division 4, with Bellway West Lothian also gaining promotion. Their promotion owed much to the contribution of their last minute sub Ken Benjamin (usually of Edinburgh International) who produced 3 unexpected wins as West Lothian narrowly piped Drumchapel C for the runner's up spot. 
Dundee C ended the season with 7 wins out of 7 to top Division 5 ahead of Guthrie Park who are also promoted. In Division 6 Haddington B produced two convincing wins to take the top spot with Tianyi Zhang the star for Edinburgh University B as they claimed 2nd place. Highland TTC completed a promising 1st season by taking 3rd. 
Thanks to all those who competed and supported those and to involved in running the league this season, as well as to.  Particular thanks to Richard Yule for his efforts in securing bookings at Bell's (we hope that all 3 sets of fixtures will be played at Bell's next season) and to Stewart McGowan and Terry McLernon for leading the presentations on the final day. Thanks also to Ken Cadogan and Graham Muir for their assistance on top table. But the main thanks goes to Lindsay Muir for all his efforts in organising and running the league and leading the SNL committee.