National League Champions
Scottish Schools Success
North Ayrshire Open – Entry Form
North Ayrshire Open will take place on Saturday 28th & Sunday 29th of March at St Matthews Academy, Saltcoats. Senior and Banded events will take place on the Saturday and Junior events will take place on the Sunday, Doubles will be the first event on both days.
There will be a minimum of £1250 worth of prizes up for grabs including cash prizes and vouchers. The entry form can be found below with full information.
We welcome players of all standards and ages to enter, with each player permitted to enter 2 singles events and doubles per day.  We hope this year's event will be as successful as it has been and would be delighted to see all clubs and regions support our competition.
Sat: Mens & Womens Singles, Open Doubles, Over 55's, Standing Disability & Banded Events
Sun: Juniors, Cadets, Minors, Junior Doubles, Beginners Banded
Venue : St Matthews Academy, Saltcoats KA21 5NT
Entry Form 
Word – North Ayrshire Open 2020 – Entry form
PDF – North Ayrshire Open 2020 – Entry form
WoS League – Results
Its been a good season so far for our teams in the West of Scotland Senior League with our Division 1 team in 3rd place, Division 2 team in 3rd place, Division 3 team in 1st place and Division 4 team in 6th place.
Its a busy season in WOS Senior League, weekly matches both home and away, divisional cup and handicap cup all to play and organise. Top effort from the team captains as always with their efforts being rewarded with good results and happy visiting teams re playing conditions and atmosphere at our club.
Division 1 – Ryan Henry, Jamie Johnson, Ian Macpherson
NA A team have put in some fine team and individual performances this season, Ryan sitting on 76% wins, Jamie 71% and Ian 66%. The team are comfortably in 3rd place on 82 points, 7 behind 2nd place South Ayrshire with SA having a game in hand.
Division 2 – Kevin Morrison, Chad Duncan, Nathan Hogg, Kayser Collins
10 wins from 13 matches put our B team in 3rd place with 76 points, 4 behind 2nd place South Ayrshire and 19 infront of 4th place Joe Wilson A. Nathan, Chad and Kevin are looking forward to their semi final of the handicap cup after beating North Ayrshire A in an epic QF match by 4 points.
Division 3 – Alex Hughes, Derrin Lynch, Graeme Stevenston, Holly McNamara
Division 3 team are top of the table by 1 point, narrowly infront of Croft. Team captain Alex Hughes is delighted with 14 team wins from 14 and with how Graeme & Derrin are performing after their first season back after a break from TT. Derrin currently sitting top of the player averages with 37 wins from 39.
Division 4 – Bruce McLellan, Alex Gracie, Jess Hogg, John Smith, Phil Greenham
Our Div 4 team are currently 6th in a 11 team league, their most recent match was a close 5-4 loss away to East Kilbride Juniors. Jess Hogg leading the team with a player average of 73%, followed by Bruce and Alex who are both on 40%. John Smith who is competing in his first season, is finding it enjoyable but tough and is contributing to the team with individual wins.
Full results / averages – https://tabletennis365.com/westofscotland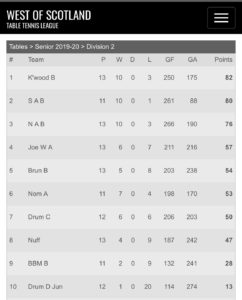 British League – Player Interviews
This season we have two teams competing in British League Division C2, which for the 4 weekends of play is held at Ormesby Table Tennis Club. This is the 6th season North Ayrshire have entered teams into the British Senior League and it is always one of the most important competitions for our club and players. North Ayrshire II are currently top of the league with a few hard matches coming up next weekend. North Ayrshire III are sitting in 6th place and have Shiyi Ling and Bishop Auckland on Feb 15th.
This season North Ayrshire II is represented by – Ethan Chapman, Charlie Morton, Ryan Henry & Jamie Johnson. North Ayrshire III is represented by – David Hay, Chad Duncan, Nathan Hogg & Holly McNamara. See two interviews below which was taken on the 2nd weekend of play.  Players Holly, Nathan, Jamie and Chad answering questions about their performance and results from team mates Ethan and Ryan.
Video 1 : Ethan Chapman interviewing Holly and Nathan
Video 2 : Ethan Chapman interviewing Jamie & Chad
#BritishLeague 🏓 | Post match interviews from yesterday with Jamie & Chad, giving their thoughts from their days play at Ormesby. More matches today at 10am and 2pm 🤞🏻

Slået op af North Ayrshire Table Tennis Club i Søndag den 1. december 2019
Martin & Holly Both Feature in Scotland International Match
North Ayrshire players Holly McNamara and Martin Johnson were both selected to play for Scotland in the International match the evening before Edinburgh Open. Scotland team were up against Northern Ireland, which resulted in Scotland winning the tie 8-4 infront of a busy crowed at Bathgate Academy. Read the full table tennis scotland report below –
WOMENS MATCH REPORT
Scotland: Alisa Khalid, Paula Callaghan, Holly McNamara. NPC – Iain Rhind
Ulster: Erin Thomson, Lucy Craig, Lucy Johnson
Match Umpire – Roger Thomas
Match 1 Alisa Khalid v Lucy Craig
A tough first match for Scotland as Alisa struggled to find any rhythm or consistency against the combination bat play of Lucy Craig. With Lucy varying from chop to hitting short balls on the backhand using long pimps and coming in with big forehand kills on any ball long to her forehand she won 3 0 comfortably.
Match 2 Paula Callaghan v Erin Thomson
Congratulation to Paula on making her senior international debut and a tough start for her against the Ulster number 1 Erin Thomson. This was a real battle of a match with Erin up 1-0 and 2-1 only for Paula to come back winning the 2nd and 4th ends to set up a decider. Paula took the lead in game 5, holding the advantage at 5-2, 8-3 and 10-8 but Erin never gave up and managed to win 12-10 in the 5th. There were many terrific rallies in this match with Paula hitting some great winners, especially on her backhand. What could have been. 
Match 3 Holly McNamara v Lucy Johnson
Another debut for Scotland at senior level with Holly taking to the court against the Lucy Johnson. Holly had a nervous start losing the first 4 points but after that gave as good as she got in the first end in losing 11-6. She upped her game and demonstrated good consistency on the backhand in winning the next 2 ends with Lucy then winning a close 4th game to set up another 5th end decider. Alas this game simply ran away from Holly with Lucy winning to 3 leaving Scotland 3 matches to nil down at the halfway stage.
Match 4 Alisa Khalid v Erin Thomson
This was the face off between the two number 1s and was a must win for Scotland. Alisa played with a fluidity that was great to watch, serving tight and demonstrating great footwork in getting in with her forehand loop consistently to dominate this match taking it 3-0. A score on the board for Scotland.
Match 5 Holly McNamara v Lucy Craig
Holly found Lucy just as perplexing to play as Alisa had earlier, the combination bat style of Lucy simply proving too much. A good evening's work for Lucy as she again ran out a 3 0 winner.
Match 6 Paula Callaghan v Lucy Johnson
The final match saw the players having many counter hitting rallies in an entertaining encounter. The first 3 ends were tight with Paula holding a 2 1 advantage going into the 4th. Paula built up a good lead but Lucy fought back and the tension was high with the score at 10-9 but then luck smiled on Paula with a timely net cord to pick up a 3-1 victory. 
The final match score was Scotland 2 Ulster 4. Well done to all the players who played some great table tennis and fought hard at all times. 
Individual match results
Alisa Khalid v Lucy Craig 9-11, 6-11, 3-11
Paula Callaghan v Erin Thomson 6-11, 12-10, 4-11, 11-8, 10-12
Holly McNamara v Lucy Johnson 6-11, 11-9, 11-8, 8-11, 3-11
Alisa Khalid v Erin Thomson 11-8, 11-3, 11-7
Holly McNamara v Lucy Craig 4-11, 7-11, 5-11
Paula Callaghan v Lucy Johnson 11-6, 11-9, 8-11, 11-9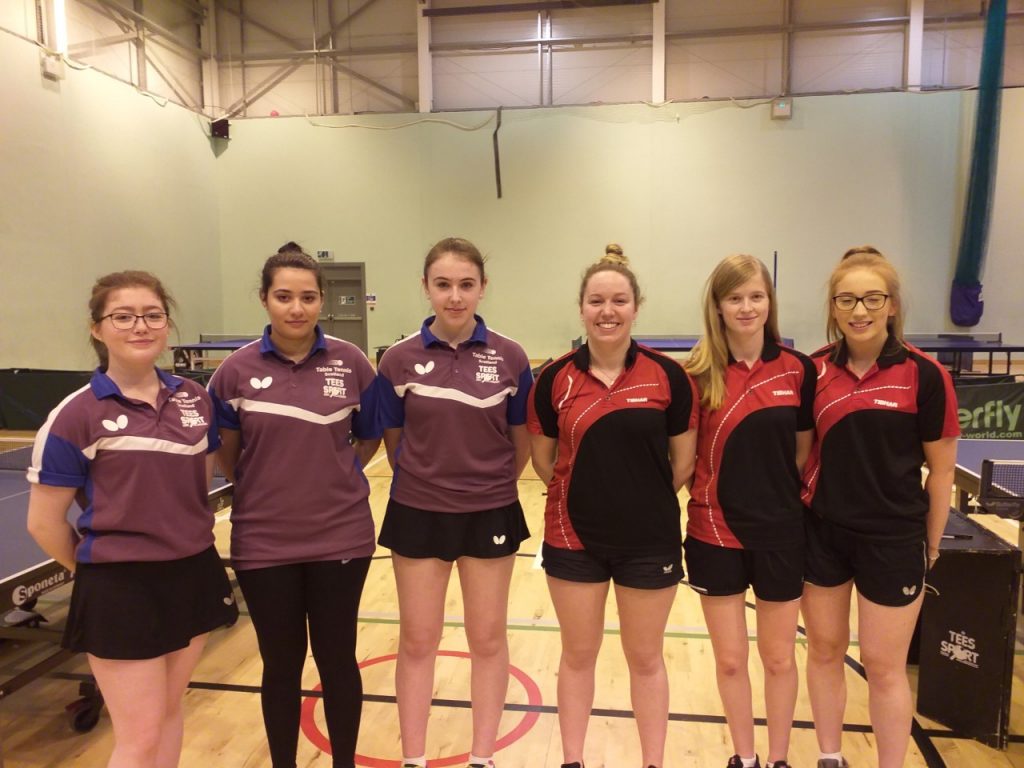 MENS MATCH REPORT
Scotland: Dylan Curry, Danny Bajwa, Martin Johnson. NPC – Dylan De Silva.
Ulster: Zak Earley, Thomas Earley, Connor Nugent.  NPC – Phil Jamieson.
After a good warm up the Scotland men looked to be in good form going into the match.  However, the first hurdle, namely the organising of the team photo, almost proved too much for the lads as they struggled to find a spot where they could be seen behind the legendary, and exceptionally tall, Euan Walker.  In the end, Euan had to relinquish his flag bearing duties so everyone could squeeze into shot.  Sorry Euan! 
Anyway, after David Fairholm had finished whipping up the crowd and all the players had been introduced, it was onto the table tennis.  First up for Scotland was Dylan Curry against the Irish defender, Thomas Earley.  Having played several times now as part of the senior team (a fact that David forgot during his motivational talk), Dylan was calm and clinical on the table.  His service variation and quick attack on both wings gave the defender little chance to get into a rally with most points not getting past the 5th ball.  The game result 3:0 and 1:0 Scotland.  
Next up – Danny Bajwa against Zak Earley.  Unlike his combination bat playing twin brother, Zak's free flowing and stylish attacking game promised an enjoyable spectacle for the audience.  However, Danny had other ideas and set about tying the game up in knots with a series of nasty short serves and awkward flick returns that meant there were very few nice rallies to enjoy.  Thanks Danny.  The game result 3:0 and 2:0 Scotland.
As Martin Johnson and Connor Nugent started the 2 minute warm up, us lot on the bench had to duck several times as the ball rocketed over the barriers.  'This is gonna be a game of bombs', Curry sagely muttered and so it proved as both players took any opportunity to thunder forehand loops at each other.  Martin's serve proved too much of a headache for the Irishman in the first end but Connor pulled away in the second to an 8:4 lead.  Martin dug deep and looked like he might snatch it until Connor, who has obviously been having lessons with Timo Boll, did a spectacular hand switch at game point that the stunned Martin obligingly top-edged into the crowd.  A potential turning point perhaps, but after a few stern words from yours truly, Martin stopped thumping everything and played a much more controlled game to make the last two ends look much easier than they were.  The game result 3:1 and 3:0 Scotland.
Curry vs Earley of the Zak variety in the next game.  Dylan put on a much better show than Danny did in his encounter with Zak and there were a few fantastic points that had the audience oohing and aahing especially when Dylan executed his trademark backhand counters off the bounce.  The game result 3:0 and 4:0 Scotland.
Martin again looked comfortable against the chopper Thomas Earley but in the second set found himself pegged back to 10 a piece after relinquishing a commanding lead.  Needless to say yours truly was not impressed and after the players swapped serve back and forth up to 14 all or so, I called time out.  The conversation went something like this;
Martin – 'whit should I dae?'
DDS – 'Do you feel happy serving fast no spin into the pimples?'
Martin – 'Aye, fine.  Whit then – push tae forehand?'
DDS – 'What! No – heavy spin wide to forehand, you'll get a soft topspin back, take a step back and whammo!'
Martin – 'OK boss'.
Martin to his credit did exactly as instructed, executed it perfectly and won the set.  
It was kicking out time at Bathgate at 9pm so at 8:30 Danny started warming up against Connor Nugent on another table for the final match.  Dylan Curry volunteered to coach Danny whilst yours truly was dealing with Martin.  Fortunately however, Martin made short work of the third end against Thomas to win 3:0 and I was able to avert a potential coaching disaster by sending Curry back to his clapping duties on the bench.  
As it happens I think Danny would have been OK even if my missus had been coaching as by this time he seemed to seeing the ball like a proverbial football and playing at a level certainly I had never seen before.  Connor played well but Danny simply had an answer to everything and took the game in what proved to be 3 short sets.  I do wonder if David Fairholm slipped Danny a tenner before the game and told him to get it over with as quickly as possible as David spent a lot of that last match checking his watch and looking agitated as it got closer to 9pm. And as the final point was played there was no time for ceremony or celebration and we were all bundled out of the hall.  
Final result Scotland 6, Ulster 0.
A big thanks to the Ulster team who played with good spirit and sportsmanship throughout the match.
Dylan De Silva – Jan 2020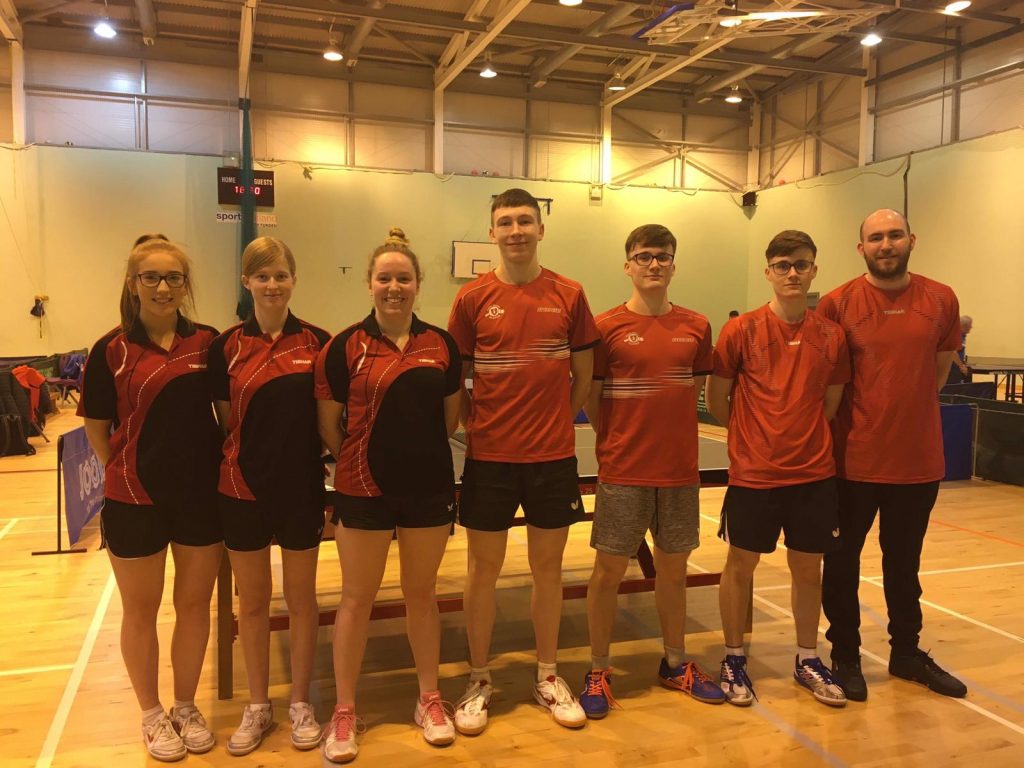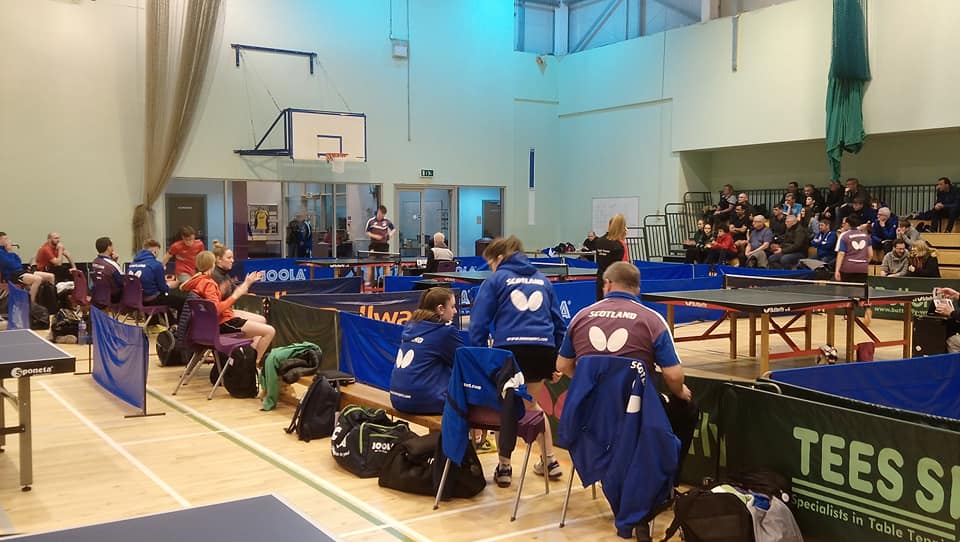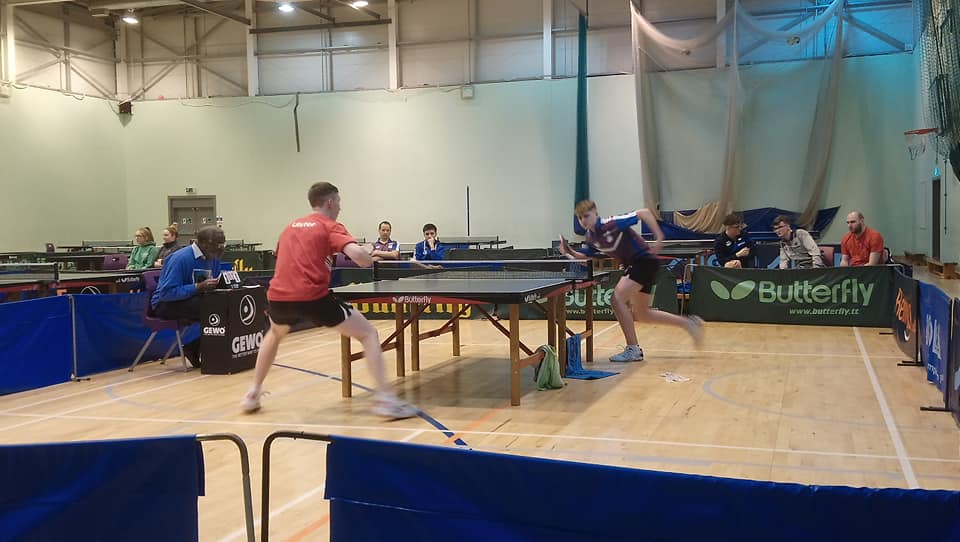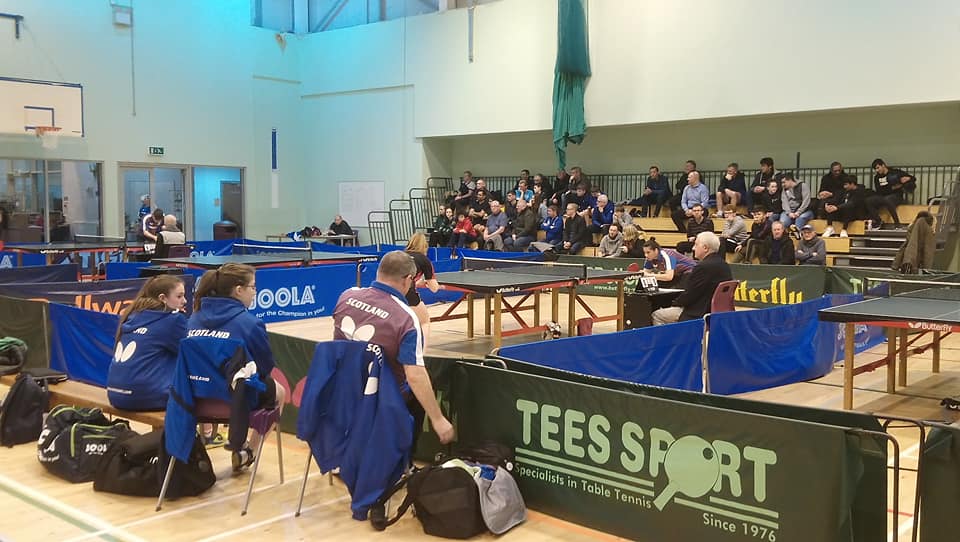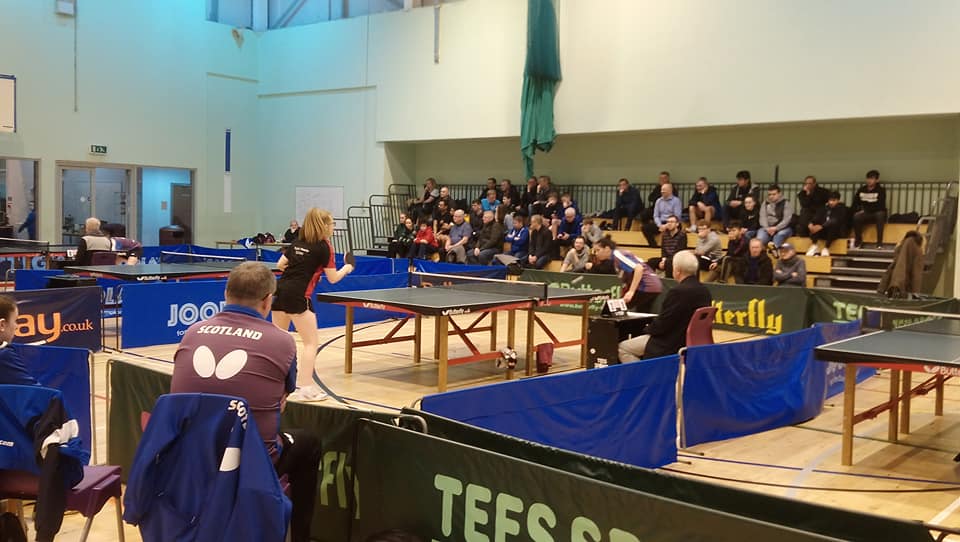 Competition Calendar
February
1st – WoS Open
8th – National Senior League
9th – Scottish Schools Final
15th – British Senior League
16th – Vets Ranking Comp
22nd – British Premier v Ormesby
23rd – Club Training Day
29th – National Championships – Day 1
March 
1st – National Championships
7/8th – British Junior League
14/15th – National Squad Training
15th – Vets Ranking Comp
21/22nd – Inter League
28/29th – North Ayrshire Open
April
4/5th – British League
8-10th – Easter Training
17th – Golf Fundraiser
Edinburgh Open Success
#EdinburghOpen 🏓 | Brilliant weekend of table tennis at Bathgate to start the new year. All North Ayrshire players put in fine performances, with notable results below
Chad Duncan – U21 Band 2 Winner 🥇
Jess Hogg – U15 Girls Winner 🥇
Nathan Hogg – Band 6 R/Up 🥈, U15 Boys QF
Martin Johnson – Men's SF, Band 1 SF 🥉
Jamie Johnson – U15 Boys QF
Holly McNamara – U18 Girls 4th place
Next Scottish ranking competition will be West of Scotland Open at Holyrood Sports Centre on 1st February.
West Kilbride TT Club
West Kilbride TT Club is a weekly community table tennis club which started a few years ago and has grown from strength to strength. Every Friday see's anywhere between 15 and 25 players of all ages and abilities come to the club to play, with ages ranging from 9 years old to 89 years old. Qualified coaches are always on hand to help as much or as little as you wish. All bats, balls and relevant equipment will be provided.
West Kilbride Table Tennis Club
Coaches – Phil Greenham, Liz Whilley, Margery McWhirter
Venue – West Kilbride Community Centre
Time – 7pm – 9pm
Cost – FREE for first time, then £3.50 after. Family discounts available
Contact – Billy Main billy@nattc.co.uk or Phil Greenham pgreenham.601@btinternet.com
Club Christmas Competition
NATTC's Annual Xmas Competition night was an action packed night from start to finish, which seen all players compete in a banded competition and 1 point competition. Thanks to everyone who competed, helped out and brought a generious amount of food / drink for the buffet.
Band 1
Winner – Martin Johnson
R – Up – Cameron Hussian