What our players have been up to ?
Summer Activities
Kids Class / Girls TT Class Starting
NEW Club Sponsor – Teessport
Return to TT – Booking a Table
Glad to announce we will be back in action from Friday 30th April and running our usual times from Friday, Saturday, Sunday and Monday. We continue to play at St Peters Church hall, where all the Covid-19 restrictions will remain in place entering, during play and exiting the venue.
As well as St Peters Church hall, we have a new venue we will be using "The Training Station" in Saltcoats will be used for smaller training groups, 1-1's and a number of Kids TT Classes.  This will be available from Monday May 3rd.
We look forward to seeing everyone at the club and back at the tables playing.
Booking your session
Please see below times at our current main base, St Peters Church Hall Ardrossan.  We will operate a first come first serve basis.  You can let Billy or Chris know what times you want to attend. You can organise your own training partner or we can assist in that too so just let us know. Email billy@nattc.co.uk, DM us on FB, twitter or phone 07979806571 to book your place.
Friday
1pm – 3pm : Over 50s – 6 spaces
3.15pm – 4.15pm : Over 50s – 6 spaces
4.30pm – 6.30pm – 6 spaces
Saturday
4pm – 5.30pm : 6 spaces
5.30pm – 7pm : 6 spaces
Sunday 
12pm – 1.45pm : 6 spaces
2pm – 3.30pm : 6 spaces
3.30 – 5pm : 6 spaces
Monday
3pm – 3.15pm : 6 spaces
4.30pm – 6.30pm : 6 spaces
Tuesday – At The Training Station
1.30pm – 5.30pm : TBC
Wednesday – At The Training Station
1.30 – 5.30pm : TBC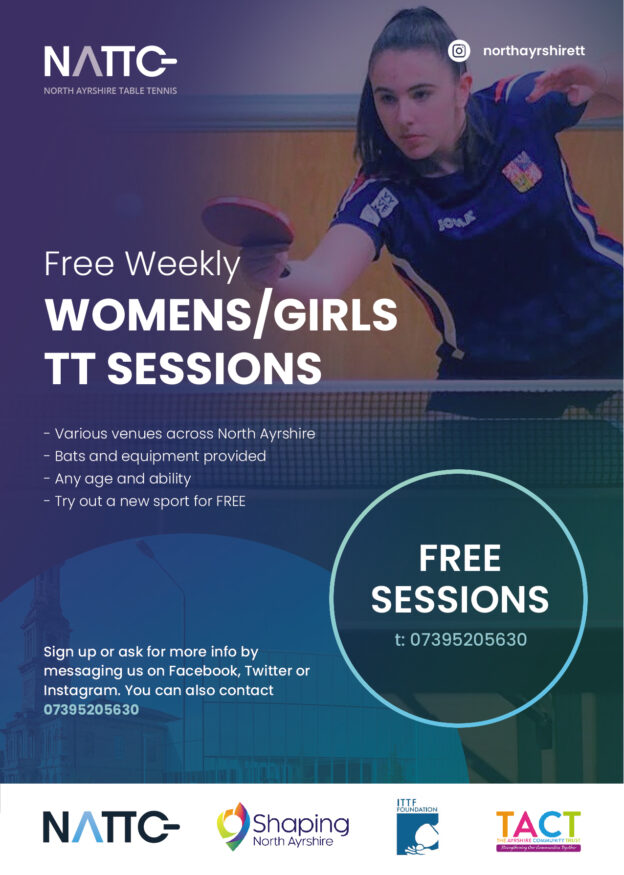 FREE Womens / Girls TT Classes
A new programme which we will start early summer will be a block of FREE weekly Women's and Girls TT classes which will run in 3 different venues across North Ayrshire. See all info below on where the classes will be, how to sign up and more about who will be helping out at the sessions.
– FREE Weekly Womens / Girls TT Sessions
– Various venues across North Ayrshire – Saltcoats, Largs & West Kilbride
– Any age and ability
– Bats and Balls provided
– Try out a new sport for free
Holly McNamara who has been at the club for just over 6 years, is currently ranked one of top U18 players in Scotland and part of North Ayrshires British League team. She will help promote the programme and be at a number of the sessions to help out and knock with whoever attends.  Holly posted this video this morning letting everyone know why we are doing classes and how you can sign up – https://fb.watch/4IBLJViFly/
"Today is World Table Tennis Day where our club along with hundreds of other clubs are promoting womens table tennis and coming up with ideas and projects of how to get more girls playing regardless of age and ability.
Today on behalf of NATTC, I would like to announce that as soon as we can get playing table tennis again, we will be running a number of women's and girls only TT classes in various facilities in North Ayrshire for a 6 week block. 
I am passionate about the game here in Scotland and will assist in coaching and playing at these sessions where we hope in getting more women and girls playing. All sessions will be FREE of change and we provide all bats and equipment.
You can sign up and show interest today, by getting in touch on our Facebook, Twitter or Instagram page. "
Sign up or ask for more info by messaging us on Facebook, Twitter or Instagram. You can also email us chris@nattc.co.uk or phone 07395295630.
Thanks to our sponsors of this programme – TACT, NA Paricipatory Budgeting, NA Venture Trust & ITTF Foundation.
Club Update – Restart of TT
Its been a while since we had our last session just before Christmas… but hopefully end is in sight with Table Tennis Scotland confirming this week what date we can return to the table.
Table Tennis Scotland has announced that both adults and juniors are allowed to return to play as of Monday April 26th. See TT Scotland announcement below
This means table tennis can take place strictly in accordance with our LEVEL 3 Guidance on an individual booking basis. Please note the bubble system is not allowed and therefore there can be no rotation of partners. Play can take place on multiple tables for example but there can be no changing of partners during the session.
There is no change to the guidance for under 18s at Levels 0,1,2,3 therefore under 18 sessions can continue with minimal restrictions.
Please note a Coach can continue to work normally with under 18s but can ONLY offer Adults, a One to One session.
COACHES who earn part or all of their income from table tennis can continue to travel for work.
Essential volunteers, parents and officials can travel to enable sessions to take place
Full TTS update can be found here – https://tabletennisscotland.co.uk/covid-19-update-6th-april-2021/
As you can see we are looking at similar rules to before lockdown, where adults can play 1 person and we will operate a booking system so no change of partners happen.
As you know we have St Peters church hall for sessions from Fri – Mon, and if any mid week evening sessions come available we will be adding that to our weekly programme. We have new facility in Saltcoats "The Training Station" which we can use during the day to early evening during the week. We will be looking at running beginners class and 1-1s there too.
West Kilbride TT are looking at opening and will be confirming when that is in the coming weeks which will be another club back up and running.
Club Dev Officer Chris Main will be sending club update to all active members with few bits of info so keep your eye out for it .. New logo, new classes, Kids TT, AGM minutes, School Packs
NEW Venue – Training Station
NATTC are delighted to have been asked to use the brand new facility in Saltcoats "The Training Station. The venue is based at Saltcoats train station is big enough to hold 2 full size courts for league players or 4 smaller courts ideal for beginners / recreational players.
We will be using The Training Station alongside St Peters Church hall in Ardrossan in which we aim to run a weekly programme that will include a range of table tennis activities and classes for our members and players.
A big well and thanks to John Deans and Shibumi Karate on giving us the opportunity to use their facility and store tables and all the equipment we need too. You can view the venue's FB page to see the hall and what other sports groups are using it – https://www.facebook.com/TheTrainingStationSaltcoats
Supporting TT in Schools
North Ayrshire TT Club has several ideas and programmes being launched in the coming months to promote and support table tennis activities in our area and local schools. One of our initiatives is the support / colleges which run table tennis during and after school.
While we cant deliver or help deliver sessions in schools due to the COVID-19 restrictions, we are offering equipment, club materials and online opportunities to help PE teachers, senior pupils deliver better and higher quality TT sessions.
What we have on offer
– Table Tennis Tables (on loan basis)
– Cluster Equipment Packs (see below)
– Coaching Tools
– TT Scotland Online CPD Coaching Courses
– TT Maintenance (Fixing broken equipment)
TT Tables ( on loan basis)
We have a number of table tennis tables to give out on loan basis to support existing activities or NEW classes in schools which show interest in delivering the sport. If it would help your school to have an extra 1 or 2 tables so less people are sitting off, let us know and we will see what we can do.
Each Cluster Equipment pack includes 
– 25 bats
– 4 stretchy nets
– 2 full size nets
– Box of practise balls
– Skill cards – made by us
– FREE passes to club sessions
– Club Flyers
We aim to give each cluster or academy in North Ayrshire a pack which can be used in their cluster as and when they please.
Online Intro to TT Coaching Course
We have a couple of dates agreed with TT Scotland for online "Intro to TT Coaching Course" which is ideal for anyone wanting to learn about the basics of table tennis and how to deliver a session on it. We hope to open this up to anyone wanting to do it and is perfect for players, students, senior pupils and PE staff. We will be contacting schools and partners to discuss this in coming days.
TT Maintenance
We have many volunteers at club who help fix tables, barriers and nets and help our club maintain a range of high quality equipment throughout the season. If any school, college or venue have broken tables, please let us know and we can take visit and see if its repairable and if its worth fixing. Tables and nets are expensive so its better to fix them as soon as possible.
Thanks to our Sponsors
As always, we say a big thanks to our sponsors and partners of our club who help us fund our projects and help our club achieve our ambitions.
North Ayrshire Ventures Trust
Bribar TT
KA Leisure
Joe Perry – Extra Access Scaffolding
Youth Scotland
NA Community Benefit Fund
The Ayrshire Community Trust
Stanley Morrison Trust
Sporting Chance Foundation
Active Schools
Table Tennis Scotland